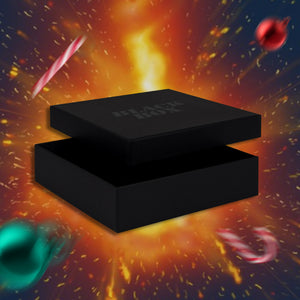 The Black Box - Rude, Funny Christmas Card | Dirty Card | Cards for Friends | Fun gifts for him | Fun gifts for her | Joke cards
Regular price
£12.99
£0.00
When a single card isn't enough, when shaking up just one person's Christmas simply won't cut it- you get the Black Box. A sleek, gorgeous, mysterious box of wonder and filth, packed with 10 of our most horrible Christmas Cards.
10 cards, 5 designs, 4 designs from our online collection- and one exclusive Not Nice mystery design, never seen on our site, not available anywhere else (complete with two of our signature black envelopes to boot)
This Hand Finished Box Contains: 10 cards of 5 randomly selected designs (including your extra not nice mystery cards), cellophane card wraps and accompanying envelopes. (May contain random drawings and sketches) 
Alternatively, grab our smaller 5 card box.
---
More from this collection