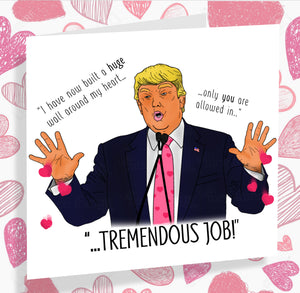 Donald Trump Funny Anniversary Card | Trump Anniversary Card
Regular price
£3.75
£0.00
Donald Trump Funny Anniversary Card, Funny Cards for Girlfriend, Cards for Boyfriend, wife, husband

Nothing says love more than the most powerful man on the planet saying it for you... in his own, special way.
Bluntly letting your significant other know, "I have built a wall around my heart... only you are allowed in... Tremendous Job!". If that doesn't make it clear- nothing will!
(Good luck not reading it in The Donald's voice)

◙ Inside Message: Happy Anniversary

◙ Dimensions: 15 x 15 cm

◙ Envelope Included. Free First Class UK Delivery.


---
More from this collection